The maintenance will take place on 27.04.2021 at 17:00 GMT+0 (server time).
The duration of the maintenance will be between 15 - 30 minutes.

Changelog 27.04.2021
Weekly Rotation Reset

Battlefield Claude, Berthe and Charles, Blue Flame Ludin, Cannon Shooter Claire,
Claire, Daisy, Friede, Grutrude, Hildegard, Kael, Kevin, Lady Rachel, Leonele, Liung,
Mifuyu, Moon, Rio, Scavenger Yeganeh, Scout, Snowflake Montoro, Viki,
Shop Changes

Lucia Merchant Union.

Added to Consumables and Miscellaneous Shop items Quinnitula's Broken Leg, Revenant's Broken Shoulder Bone and Ziz's Broken Horn.

Faction Mission Point Merchant.

Price Adjustment: Elite Constellation Weapon Summon Stone to 15000 points; Elite Bristia Weapon Summon Stone to 20000.
Added item Event Valeron's Blessing - Grades 33, 34, 35, 36.
New Character Release

Christina

Added to Andromida Token Shop priced at 1200 tokens.
Added to High Master Character Summon Stone

Known Issue: Weapon Unique Costume doesn't add DEX.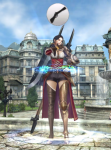 Item Changes

Code name C has been added to Premium Character Summon Stone.
Roullete Changes

Portus Defensive Battle and Quinnitula Punitive Raid

Miscellaneous items are removed and added to a shop. Refer to Lucia Merchant Union changes.
Map Changes

Castilla, Base 1

Added NPC Rank Token Merchant and Expeditionary Force Merchant.
Moved NPC Leonardo Expreso, Master Guardian, Costume Trader and Costume Collection Chest at Market area.
Monster Changes

Dekaravia, Tempest, Queen Valkyrie of respective missions Castilla, Mine(Hard), Castilla, Relic(Hard), Tower of Chaos(Hard).

Possible drop of Recipe- Queen-of-Valkyrie's Blue Ring at a 0.10% chance.
Weekly World Boss Rotation

From 28.04.2021 to 04.05.2021 spawn timers will be 12:00 GMT/UTC+0.
Last edited: